ภาพงานแถลงข่าวละครพิเศษทางช่องทีวีโตเกียว
ตามที่เคยเสนอข่าวว่าอัตสึชิรับเล่นละครทางช่องทีวีโตเกียวนั้น ขณะนี้ใกล้ถึงกำหนดฉายเต็มที (ซึ่งกว่าจะอัพบล็อกก็ฉายจบไปชาติกว่าๆ แล้ว) ก็เลยออกมาโปรโมตกันหน่อย โดยคุณเรียวโกะ ฮิโรสุเอะได้ให้สัมภาษณ์ว่าเธอประทับใจอัตสึชิมาก และไม่ได้คิดแค่เค้าเป็นเพียงจิบิโนริดะ (ชื่อตัวละครที่อัตสึชิเคยเล่นไว้ตั้งแต่ตอนอายุ 5 ขวบ)
==================================================
Ryoko Hirosue "because it was really love ..." praised Atsushi Ito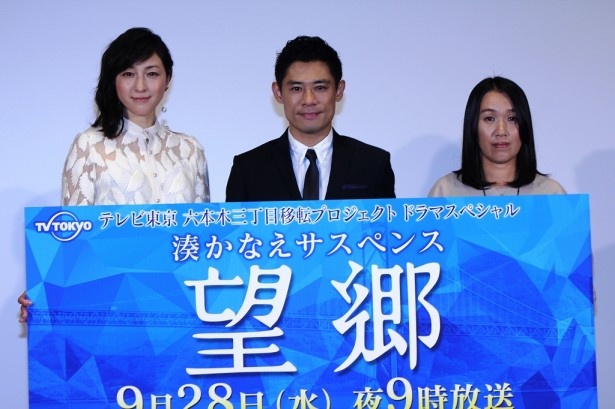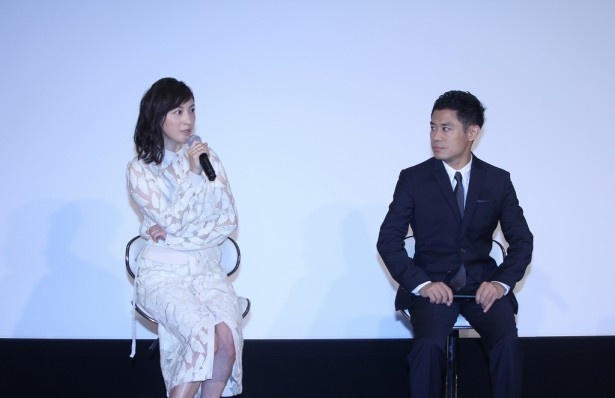 [Ryoko Hirosue / model Press = September 24, 2008 - the actress Ryoko Hirosue is 24 days, was carried out in Tokyo, "TV Tokyo Roppongi 3-chome relocation project Drama Special Kanae Minato Suspense" Nostalgia "," (September 28, at the agency 21: 00 ~) production announcement press conference, Atsushi Ito, who attended along with the Ms. Kanae Minato of the original.
Ryoko Hirosue "did not change I'm sure."
Mr. Minato is in the event, I am come in "shooting, but I think that can be found to the Innoshima nothing, if, when I was born and raised in Innoshima, do you think that is attached to the now of the profession ? "and the question to two people. Hirosue is "I also Kochi Prefecture (born), to commercial broadcasting was only two channels in childhood, is not necessarily a certain audition in Kochi, since not grabbed there a chance, I think I did not change surely imagine I think, "said," maybe, longing or strong precisely because not familiar to the reverse, might have thought something like a specific plan and outlook because the girl "and in light of the real-life experience answered.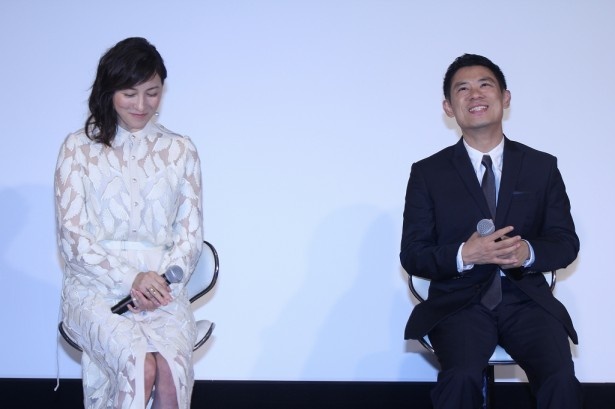 One of Ito, grandma, who lived together at the time of the "3-year-old I asked," Do you want on TV? "To me, I seemed was Unadzui and" Yeah ", it is audition in Tokyo theater company in opportunity retrospective origin leading to the now and went "to the. Followed by, "it is less likely to have want and sincerely thought to this kind of work in the days of 3-year-old. When you if growing up on the island, considering that I wonder if my will come to reflect, was attached to a different profession inflated thoughts and kana I think. "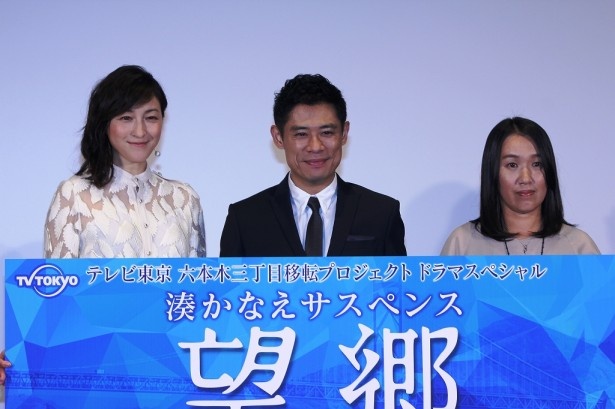 Then Hirosue is, "I do not think such a thing." Chibinorida "I think there are only Ito-san!" Said Ito, by using the character that has been played in childhood comment. Ito is against, "I really do not remember, here in one of two I episode I want to talk about ..." and say, Hirosue's in the back "a little while ago is that who has rave reviews my Chibinorida, today the most happy thing "and smiled, Hirosue also because it was" really love, we asked and all means please also doing (the Chibinorida) as lived in Innoshima ".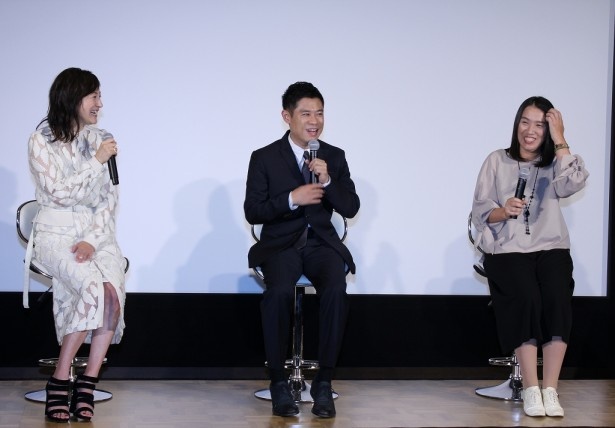 Be Ryoko Hirosue is impressive?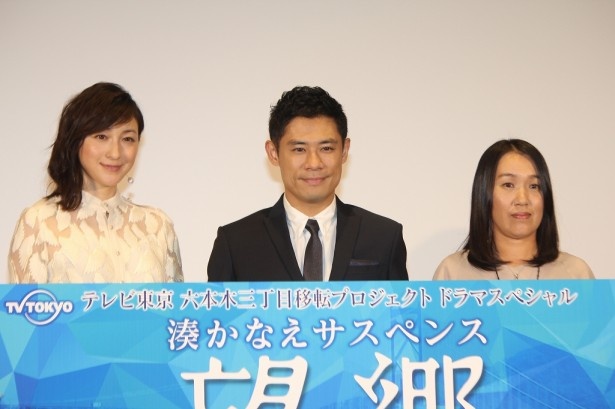 The film is, omnibus three Part of "mandarin orange flower," "Star of the Sea," "spider silk" was born and raised people's painful from Minato's mystery short intensive depicting adorable human events on the island in the Seto Inland Sea drama. The Hirosue to serve as starring in "mandarin orange flowers", "because Minato's book was a nice, contrary to there was a little pressure to or not is difficult to visualize," revealed as, "After all, this is Ii' in Do once again feel works large, there is very impressive. I am glad if you could see by all means, "said the appeal.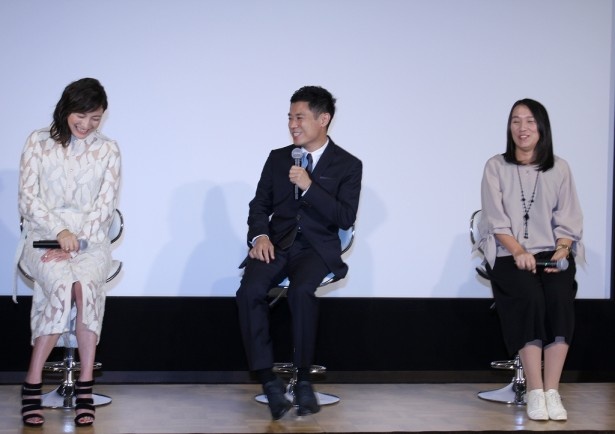 In addition, when asked the remaining episodes in the impression during the shooting, but I was on the scene that has been swayed by "weather, the first day is not be able to shoot in the typhoon, shooting becomes hard because there is a short shooting period retrospective or, the last day in the exceptionally sunny, now hot day much likely to the sound of burning the back of scorching and neck, "he said. "I'm I was the first time Innoshima, to completely different also the color of the sea by the weather, various colors in the very short time, in the impression that Do I had let me look at the Innoshima of various face, a few days of a blink could, "he said. (Modelpress Editorial)
==================================================
Ryoko Hirosue, says think of to "Chibinorida" to Atsushi Ito!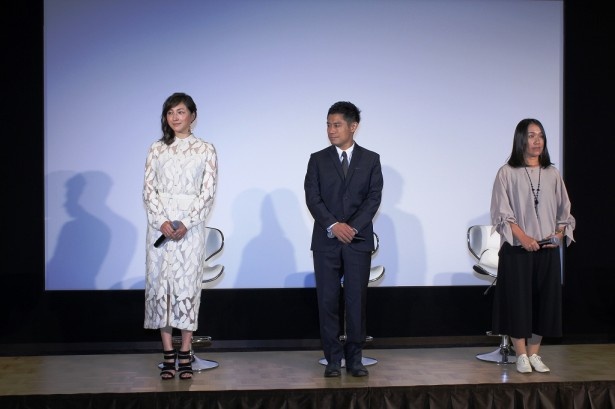 In TV Tokyo September 28, will be broadcast to the (water) "Roppongi 3-chome relocation project Drama Special Kanae Minato is carried out production announcement press conference of suspense" Nostalgia "", starring Ryoko Hirosue , also Atsushi Ito , authorship Kanae Minato of the podium, told the think of to work.
The original story, continuous cropping mystery short stories depicting the painful even adorable human pattern of was born and raised people on the island that if floating in the Seto Inland Sea. In this TV Tokyo, the Part 3 of "mandarin orange flower," "Star of the Sea," "spider silk" was omnibus drama from among them.
Starring Ito of the "star of the sea", the father Hideo (Jun Hashimoto) has disappeared at an early age, plays a company employee-Yohei Ayumi of native island, which grew up in a fatherless home hero.
Ito, "" star of the sea "is, I Orimashi the Seishiro Kato Mr. time of Yohei of children play to play, about 8 percent is a work that can be in the power of Kato-kun (laughs)" while fooling with introduce the attractions.
"If if not born and raised in (Roque became the land) Innoshima, the same do you work? And now" from Minato Ito was asked, "surely become a love local, I do not want to leave from the island reply and might have a different job I think. " Then, is it immediately "because Chibinorida'm not only Ito-kun, me not when trouble! Doing actor" from Hirosue and, entering suddenly "waited" one-act.
Ito "Today, Mr. Hirosue in the back of the waiting room is (" "In Kamen Norida" of child actor era Ito of your thanks, "in Tunnels is played) me praised Chibinorida by ... it was glad most It "and revealed, showed a smile.
On the other hand, because Minato had been thought unlikely to be the visualization of the "short stories, such is drama in the form, yet Mr. Hirosue, Ito-san, Gaku Hamada and Mr. and luxurious starring three people, surrounding it lineup too gorgeous much such There are people who do not even know people in co-star, had been spiel the luxury of joy and the cast of the video of the just but it is "All-Star dream co-star"! ".
==================================================
Production press conference of TV Tokyo drama SP "Boukyou"
The production press conference of TV Tokyo drama SP "Boukyou" was held on 24 September which was attended by Minato Kanae, the author of the original novel and cast members Hirosue Ryoko and Ito Atsushi. The drama SP consists of three stories namely "Mikan no Hana", "Umi no hoshi" and "Kumo no Ito" set at islands in the Seto Inland Sea which feature Hirosue, Ito and Hamada Gaku as the leads respectively.
Filming was done at Innoshima in Hiroshima Prefecture which happens to be Minato's hometown. Minato commented that even though she is supposed to be very familiar with Innoshima, she couldn't help but marvel at how nice her hometown is while paying a visit to the crew and staff who were filming there. Despite the poor weather conditions as they filmed during the rainy season and plans were affected by typhoons too, Hirosue enjoyed herself during the process and revealed that the locals had come to play extras in the drama. However, it is not confirmed if the Innoshima residents can actually watch this drama because it is dependent on the local TV stations to buy the broadcast rights so Hirosue called upon the related personnel to try to make it happen. As for Ito, he joked that his story might be successful because the younger version of his character was played by Kato Seishiro and said that the rainy conditions probably coincided with his character's emotional state and cleared up towards the end of the story. With the number of rainy days they encountered during the filming, Ito was concerned that he might be labelled as a "ame-otoko" for bringing in the rain to which Minato chipped in to say that it was very coincidental that they happened to be there at a time when Innoshima had the most amount of rain in the last few decades. Ito concluded with a comment that he wishes that the drama will make people feel hopeful and optimistic after watching it.
When asked how their lives would turn out if they were born on an island, Hirosue said that her hometown in Kochi feels almost like an island to her and there were only two private television stations in the prefecture. However, since she had always aspired to join showbiz since she was a child, she thinks that she would have still headed down the same path as she did even though there were no auditions held in Kochi then. As for Ito, he revealed that he was born in Chiba and entered a theatre group at the age of 3. If he had been born on an island, he might have remained there and worked in a different job by now. During this segment, Hirosue said that she had been a fan of Ito when he was a child actor playing Chibi Norida in the FujiTV programme "Tonneruzu no Minnasan no okage desu" which made Ito very happy even though he hardly remembered what he did then.
The theme song of the drama "Kougen" is written and sung by Yamazaki Masayoshi who also appears in "Kumo no Ito" as Hamada's senior.